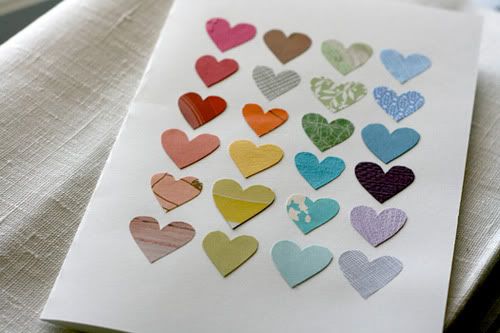 {via}
Happy Valentine's Day. I hope you feel especially loved and cared for today.
Personally, I am not a big fan of Valentine's Day. J and I feel we don't need a special, commercialized day to celebrate our love, so excuse us if we skip this day. We won't exchange gifts today and we won't go out for dinner either. It'll be a day like every other day for us. However, I want to take the opportunity today and tell you about the love that other people have shown me lately.
Within the last few months, I was really humbled to receive a couple of very nice emails and letters in response to my blog. I don't have a very large readership and I don't even know if I am striving for that, but it's really lovely when people reach out and connect with me, especially when those people do not regularly comment and don't have a blog of their own.
Finding out that there are people out there that found my blog and found it worthwhile enough to come back regularly to read my musings is pretty neat as it is. Getting letters/emails from these people, telling me that they like the person that they've got to know through this blog and that they believe I am genuine and real, makes me want to jump with joy.
This makes me happy on so many levels, especially because I only share a really small part of me and my life on the Internet and still seem to be able to paint a genuine picture of who I am as a person.
I want to say thank you from the bottom of my heart for the lovely notes that I received (you know who you are, if you sent one!) and for reaching out.
For me, this is what blogging is all about. Connecting with like-minded people, making new friends and creating a global network of friendship and support.