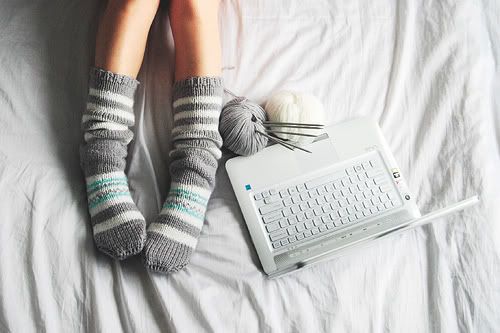 {via}
Last weekend was exactly what I needed… some much anticipated down time and some girl time with a friend.
Since I usually don't work Fridays, this is my day to catch up on all the chores that I didn't get done during the week. I try to get the cleaning, laundry and bill paying out of the way first. I've also taken to doing my grocery shopping on Friday late afternoons/evenings, because you know what? There is hardly anybody at the stores at that time! Pssst.
Saturday was spent cozily at home. I believe I didn't leave the apartment at all.
I turned on the heater for the second time this fall. I wore thick, woolen socks (not in gray though), worked on some crafts (not knitting, but stitching and card-making) and dedicated some time to computer activities (and I wish I had a pretty white laptop like the one in the photo), because hey, I am dedicated to blogging also on the weekends in November and besides, Photoshop CS5 is really awesome. Just sayin'. I drank a huge pot of coffee in the morning and more tea in the afternoon. You wouldn't believe how good I am about fluid intake in the fall/winter, when I can mostly rely on hot drinks.
J and I had a cozy Saturday evening catching up on our Netflix queue.
On Sunday morning, it was pouring. I had plans to go and see my friend Susi for a few hours and I wouldn't let a little torrential rain interfere with my plans, but you know what that means for driving on the freeway, don't you? I mean, Californians just freak out in the rain (to put it mildly).
I still made it to Susi's house in a reasonable time and we caught up over a big pot of tea and you really have no idea, no freakin' idea, how nice it is to speak German for a few hours :) I don't know how to explain, it's not that I couldn't have had as good of a time if I had spoken with somebody in English, but it's something about the way you can just blabber away when you're talking with someone in your first language. I am sure some of you (at least) understand!

How did you spend your weekend?
Did you make good use of the extra hour due to the ending of DST? I surely used this hour wisely – I got some extra sleep :)