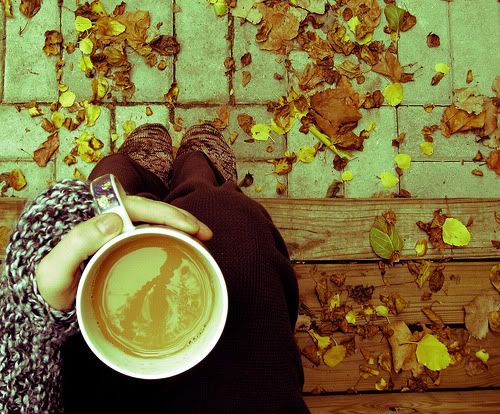 {via}
I am…
… looking forward to fall and all the fun stuff that comes with it… cooler evenings, blankets, candles, spiced pumpkin lattes (I said that just because, I am actually not a very big fan of them, but I noticed that they're back on the Starbucks menu!), hot soups! Last night, we had the first rain!
… patiently waiting to hear from a friend who hasn't been in touch for a while. She usually takes her time to get back to my emails and sometimes I just wish she would be a little better about keeping in touch with me, because whenever we do see each other, it's like we haven't been apart at all.
… feeling kind of ridiculously happy about the fact that Christmas is only 3,5 months away. I love the pre-Christmas time and I can't wait to go back to Germany and have mulled wine, ginger bread  and potato pancakes at the Christmas Market!
… hoping that my Dad's surgery next week will go as planned. Keep your fingers crossed.
… hating that I am so far away when things are happening with/to my family.
… thrilled that my nice and nephew are now sporting similar t-shirts from Hawaii  sent by yours truly :) When my sister asks "Greta, who sent you this t-shirt?", Greta will answer… "Sand(r)aaaa, in 'Merica". Awww, swoon.
… proud of myself for having gone back to the gym. Finally.
… starting to read more again, which I always crave, but never feel I have enough time for. I have recently picked up a few good books though and fall is always a good time to get back into reading, don't you think?
…  looking forward to a little get away with J in October. We still haven't decided on the destination, but I am sure we'll come up with something.
… feeling more inspired to be creative these days, and making time for it. As I mentioned before, I am (still) working on the embroidery on a baby quilt for my sister and I've also picked up more supplies  at Michaels on Monday to start a project for another soon-to-be-born baby. It's exciting.