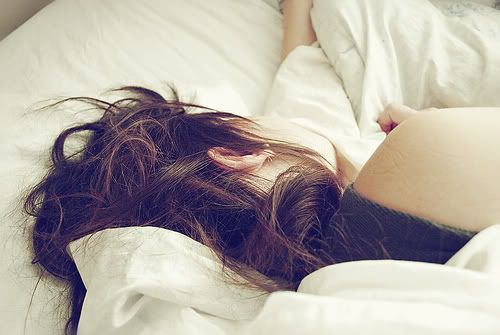 {via}
In the last couple of weeks, I've felt like a huge procrastinator.
I am going to cut me some slack right here, because after all I've been semi-sick for the last 8 days (sick enough to feel crappy and exhausted, but not sick enough to stay at home and really take some time to recuperate), but remember, I am an adult and responsibilities don't go away just because I am sick.
I feel like I am literally behind on everything. The apartment is a mess. The kitchen floor needs to be mopped bad, the apartment has to be vacuumed (hello dust-bunnies!), there are papers to be filed and claims to be submitted (remember the time when I got stuck in London?), I have some letters to reply to and birthday cards to send out. If I owe you an email – please be patient, I'll get to it.
As you might now, I am a list maker. So, it's not like I don't have all these things written down. Having a list usually makes me stick to my list, but as of late, it's not working. What good does a list do, if I don't check things off that list?
In my defense, I managed to go grocery shopping and do the laundry last weekend. (The bare minimum will always get done!) I even printed out claim forms and receipts and sorted some papers, but most of the time I found myself curled up on the couch under a big warm blanket, that I'd have gladly just pulled over my head for the rest of the day, just thinking how much I had to do, but unable to get anything done. The silver lining: I used the time (that I don't have) to watch some mindless TV (I think, three chick flicks total) and that was lovely and relaxing (maybe just what I needed?).
I think, it might be what we call "Frühjahrsmüdigkeit" (spring time lethargy) in German. The only problem with my theory is: it's not even spring yet!
How do you motivate yourself when you're not motivated?
I decided that I'll take 5 minutes tonight …
to pick up five things and put them where they belong.

to empty the bathroom garbage bin.

to sweep the kitchen.

answer three pressing emails.

throw out three old items from the refrigerator.
I know these are only little things (that aren't even all on my list), but it's a start and I know it'll make me feel better.
Which 5 things could you take care of when you get home tonight?