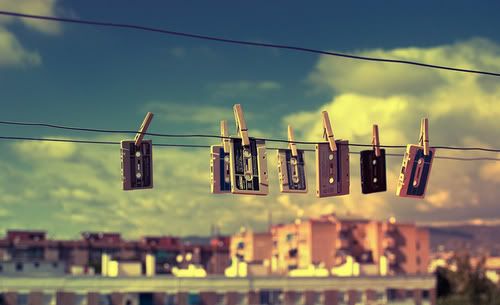 {via}
Inspired by one of LaMidge's latest blog posts about her Life Soundtrack, I thought I would share my own songs that make up the soundtrack of my life, that trigger memories from the past, make you travel back and revisit almost forgotten people and places.
♪ "Take on me" by A-HA
♪ "Sultans of Swing" by Dire Straits
♪ "Please don't go girl" by New Kids on the Block
♪ "Entre dos tierras" by Heroes del Silencio
♪ "Like the way I do" by Melissa Etheridge
♪ "State of Love and Trust"  by Pearl Jam
♪ "Here Without You" by Three Doors Down
♪ "Song 2" by Blur
♪ "Push" by Matchbox Twenty
♪ "Believe"  by Vivid
♪ "Everything you want" by Vertical Horizon
♪ "Will Nur Dich" by Brings
♪ "Won't forget these days" by Fury in the Slaughterhouse
♪ "Yes" by Chad Brock
♪ "See me through"  by Rascal Flatts
♪ "You and Me" by Lifehouse
♪ "When you say nothing at all" by Ronan Keating
♪ "Let Go" by Frou Frou
♪ "You know my name" by Chris Cornell
and last but not least, the song that gave this blog its name…
♪ "I am mine" by Pearl Jam
I am pretty sure I might actually have forgotten some songs that are near and dear to me, probably because I haven't listened to them in a long time, even though I've spent quite some time this weekend trying to compile the songs for my Life Soundtrack.
Most of those songs really send goosebumps down my spine when I hear them.
I am really curious to know which songs do that for you. Again, make sure you check out LaMidge's Life Soundtrack and share your own list!!