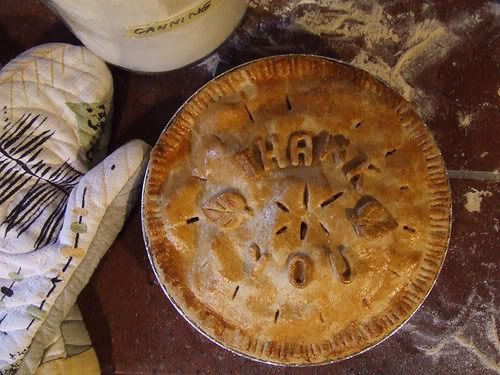 {via}
I hope you don't mind that I tweaked the title of this post a bit, because it seemed appropriate today to not tell you what I love, but what I am thankful for this Thursday. (BTW, I wish that I had baked this awesome Thank You pie in the picture).
Today, I am thankful for…
… the fact that I was financially in the position to book a ridiculously expensive flight to Europe yesterday in order to spend Christmas with my family. Even though every bone of my body was screaming with disgust at the out-of-control airline prices this holiday season, there was really no way I was not going to spend Christmas back home. It just means so, so much to me to be with my family – especially this time of the year.
… for my husband, who always knows how to make me smile, even on a bad day.
… for a wonderful niece and nephew that I can't wait to hug again. It's unimaginable to think that those two little human beings haven't even been around that long, but it feels like they have always been part of my life. It just simply melts my heart, when Greta – who is only 2 years old now – talks to me on the phone or on Skype and I totally see her little personality come through. Kids are so amazing!
… for the very close and special relationship with my sister, who I can call at any time of the day and who is always there for me. I am really looking forward to spending time with her. I don't see her nearly often enough and every minute that we spend together is so precious.
… for a very flexible and relaxed work environment, and a boss who always finds a way to accommodate my longer vacations overseas in return for a very dedicated, flexible work ethic on my part.
… for friends near and far who know and understand me, who always find the right words (or no words at all), who lift me up and who calm me down, if needed. It's amazing how you just 'click' with some people. It's mind-boggling to me that you meet so many people day in an day out that you absolutely can't relate to and then there are those people that feel like the missing parts to your puzzle. I am thankful for having those "puzzle pieces" in my life, because they make me feel more complete.
… for coffee, tea, baked goods and everything that makes me feel warm and cozy in the winter time. For blankets, fuzzy socks, candles and dimmed light.
… for opportunities to learn and grow. Even though situations might be unpleasant at times, I am always trying to see the positive rather than the negative (although it can be a struggle). Sometimes we just need to say "screw it, this just stinks" and accept that life can't always be peaches and cream.
… for you. Yes, for every one of you who take time out of your busy days to stop by here in my little corner of the Internet to read my rants and stories. Your friendship and support, your feedback and kind words really mean the world to me. For someone like me, who lives so far away from family and RL friends, this community that spans across the globe, is truly an amazing blessing.
What are you thankful for?
Happy Thanksgiving to all of you lovelies!