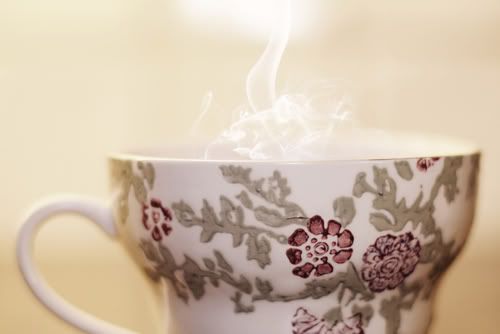 {via}
So, I did fall off the face of the earth again, didn't I?
I have a good excuse though. Actually, there were two reasons. One: I was religiously following the World Cup, which would be worth a whole blog post itself, but I will spare you the details as a) Germany didn't win the title (even though they were so close), so never-mind, and b) I know that some of you couldn't care less. Two: I was sick.
Yeah, I know, right? Who gets sick in the middle of summer when it's 98°F outside? Apparently, I do. I blame it all on the freezing-cold temperatures at my office and the fact that we actually had to open windows to get some warm air in.
How backwards is that? I mean, having an A/C when most of the days are in the 90's in the summer feels right, but making you wear long pants and sweaters inside, while it's boiling hot outside? No, no, there is something wrong with that.
It all started out with a sore throat on July, 1 and just went downhill from there. Needless to say, my greatly anticipated 4-day-weekend pretty much completely fell through. We had planned to escape the Central Valley heat for a day of play and relaxation at the beach, but alas, that didn't happen. I felt crappy the whole weekend, I was aching in all kinds of different places and one of my lymph nodes had swollen up to the size of a big, fat grape.
The only bright spot of the weekend was Germany's sublime quarter-final ass-kicking of the full-of-themselves, cocky Argentinians, which I witnessed through the hot steam of five big cups of peppermint tea early on Saturday morning. It made me feel so much better (the tea, yes, and the game). Temporarily.
When I still wasn't back to my old self last Tuesday morning, I did something I usually never do – call in sick at work! – and decided it was time to see a doctor for the first time since I moved to the US. I know this (argues in favor of my overall good health, and) might sound rather silly, but it's all kind of scary to go to a doctor in a foreign country for the very first time.
I don't know. You just don't know what to expect, if that makes sense.
As it turned out, I was anxious for nothing and had a very nice visit with a very nice (and young) female doctor (is it just me or does anybody else feel it's wrong when doctors are around the same age as oneself? I usually like my doctors to be old, white-haired guys with LOTS of experience under their belt, but I am guessing that time is against us and the older we get, the younger the doctors who treat us are going to be).
In the end, she was less concerned about my throat infection (though she told me that it would take a few more days for it to go away) than my briefly-mentioned history of iron deficiency-anemia, which had landed me in the hospital a few years ago (blood transfusion and all kinds of tests and procedures, like colonoscopy and gastroscopy, included. Fun times – NOT).
Although I had been contemplating on having my iron levels checked for a while, I had thought it to be silly to see a doctor for just that. Now that I was at the doctor's anyway, I agreed on having my blood work checked. I didn't expect a negative outcome per se, but I was not surprised when the doctor called and told me that she'd like me to start taking iron supplements again. Yuck. Do you know how nasty iron supplements are? They make you burp a lot and leave an iron aftertaste in your mouth. Is that TMI? Sorry.
I did stay home from work for two days (which in this country has pretty much the implication that you must be half-dead, or something) and just tried to get better. Besides the fact that I felt like crap for almost an entire week, I must say that staying at home for two days, that I was scheduled to work, was a nice, unexpected change of pace. I actually picked up a book and read a few chapters, which is something I hadn't had time for in a while. (Note to self: have to make time for this more often!)
I did miss out on Amy's Nintendo-party on Friday (which was a bummer!), but at least I think I have fully recovered over the weekend and things will be back to normal around here.