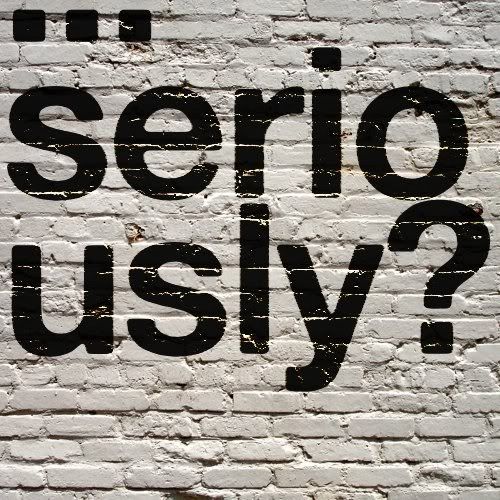 {via}
I get annoyed and irritated by people, who…
… say one thing and then go on and do another. Seriously? This is pretty much similar to lying in my book.
… who can't be honest. With me or themselves. I know that honesty can be a b*tch and it's not always pleasant, but in the end, honesty is the only thing that works (in my opinion.)
… pass me in the right lane on the freeway. I mean, I know there is no law against passing on the right, but isn't it widely understood that slower traffic should keep right and that you get in the left lane, if you want to pass? That is like basic escalator-behavior, right? Why not apply this to the streets?
… hug me by not hugging me. Ugh. Either you hug me, or you don't, but don't give me one of those "fake-hugs", where you pretend you like me enough to press your body against mine, but at the same time lean back as far as you possibly can. That's not a hug, that is awkward.
… have no table manners.
… never are considerate of others, who always think of themselves first. It makes me wonder in what kind of family they were raised or if they had to fight for themselves since early childhood. I know, there is a fine line drawn between standing up for yourself and at the same time being considerate of others. It can be confusing growing up to learn to be helpful and compassionate, while not having other people take advantage and walk all over you. It's just irritating when you meet people that have not one bit of consideration in their bodies.
… never return phone calls or emails. In this age and time, it is so easy to stay in touch. So freakin' easy. I mean, it's not that hard to write a quick text message or email. I don't expect you to be as communicative as I am, but if someone just completely ignores my attempts to get/keep in touch, it really rubs me the wrong way.
… cut in front of me when in line. I am usually very easy-going and don't mind letting somebody go ahead of me if they ask me nicely. Hey, I might even offer it when I am in a particularly good mood. What I don't appreciate is people sneaking up from the side and pretending that they were in line all along.
… don't use their turn signals properly. You know, I don't want to be overly dramatic about this, because I am sure I have taken a turn myself without using my turn signal ( only if there were no other cars around though), but if you're on a busy, five lane freeway using your turn signal is pretty much imperative! Still, a hell of a lot of people don't seem to think that it is necessary to indicate that they are going to change lanes. I really can't tell you how many times I've witnessed – or been part of – a scenario when a car from the right lane and a car from the left lane were simultaneously trying to change to the middle lane, barely avoiding to crash into each other.
… leave their shopping carts in the parking lot. Especially when they leave them in a parking spot, so that you can't pull in all the way. I mean, seriously, how hard can it be to walk another few meters to return the cart to the cart return area? It's not like you have to walk back all the way to the entrance of the store. It's just common courtesy, you know?
… can't put away their smart phones while they're talking to you. I get it. Smart phones are cool. It feels good to be so "connected". I can get sucked into this myself sometimes. But is is really necessary to glance at your display every 5 minutes while you're having a face-to-face conversation with someone? Be assured, all the very important messages will be there when you check it again later. Let's have a conversation right now, shall we?
… complain about other people posting "boring and mundane" things on Twitter and then go ahead and think that their "boring and mundane" tweets are anything special.
… use inside jokes/information to clearly exclude somebody else from taking part in the conversation. Sorry, but that's just so rude.
… don't pull up to the next corner/drive way when parking along the curb to make sure that the parking space along the whole length of the curb can be fully utilized. I understand that it's kind of hard to figure out where to park when no parking spaces are visibly drawn on the street, but the corner/driveway is a clear sign that this is the end of the parking space and there is no need to park 5 feet away from it (or from another car for that matter).
… don't acknowledge the server at a restaurant, who keep talking while the server is serving food, bringing more iced water, etc. How about a "thank you"?
… call me Sandy, even though I introduced myself as "Sandra". What gives?
Phew, that's a long list.
Do you have similar pet peeves? Tell me some of yours!