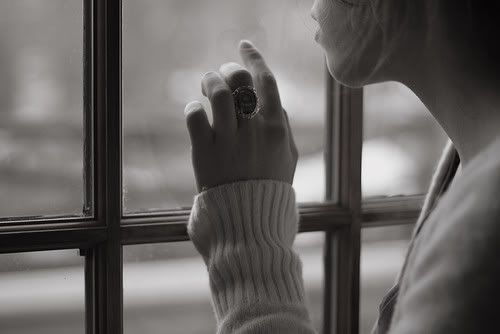 {via}
Around this time of year, when the old year comes to a close, I always get a tad melancholy. I don't know if it is the fact that dusk sets in much earlier in the day, that all I want to do is curl up on the couch under a blanket and that in general the whole world seems to slow down, but it's always a time when I start to self-reflect. And self-reflection can be a bitch, y'all.
I'm in general a person who always tends to live more in the past than in the here and now. I hang on to memories, words, people much tighter than the regular person and this usually results in a lot of happy reminiscing, but also sadness and regret. Sadness that I couldn't hold on to this certain moment a little longer. Regret that a person that I held dear faded away or that I let an opportunity slip through my fingers. And more often than not, I forget to appreciate what's happening right now, inevitably setting myself up for more sadness and regret in the future.
That is not to say that I am constantly sad and unhappy. I just have always been more sensitive to the effect of change and been known to be prematurely sad about something eventually being over when, in fact, I was in the midst of it, when it was going on, when I should have just enjoyed the moment. Silly, isn't it?
So, when I start self-reflecting, I want to tell myself that change is ok, that it is normal, a fact of life. I want to tell myself to handle things differently in the future. To not take things to heart as much and to let go more often.
It easier said than done.

It's my internal hard-wiring that has to change in order to care less, to say no, and to be ok with it. And I am trying. Again and again.
Especially around this time of year.